Micah Solusod
He may not have magical powers but Micah Solusod is a fair-trade, free range professional voice actor and illustrator.
Hailing from Hawaii, the rapscallion is best known for his breakout role as Soul Evans in Soul Eater. Since then, he has gone on to voice characters such as Yuichiro Hyakuya in Seraph of the End, Toma Kamijo in A Certain Magical Index, Yuri Plisetsky in Yuri!!! On Ice, Akito Hyuga in Code Geass: Akito the Exiled, Yukine in Noragami, Midnight in Fairy Tail, Coby in One Piece, Wisely in D.Gray-Man Hallow, Tagoma in Dragon Ball Super, Mizuki in Kamisama Kiss, Ame in WolfChildren, Arata Kaizaki in ReLIFE, Gakushu Asano in Assassination Classroom, Kakeru Naruse in Orange, Black/King of Despair in Blood Blockade Battlefront, Cho Hakkai in Saiyuki Reload Blast, Bea in Space Dandy, Seido Takizawa in Tokyo Ghoul, and most recently Haruhiko Ichijo in Myriad Colors Phantom World! It's likely he's done more but who's counting?
When he's not posting unhelpful voice acting tips on Twitter, Micah works as the lead artist for the webcomic "Ties That Bind."
Stalk him on the internet:
Website: micahsolusod.com – painapplestudio.com
Facebook: facebook.com/msolusod
Twitter: @maioceaneyes
deviantART: maioceaneyes.deviantart.com

---
John Swasey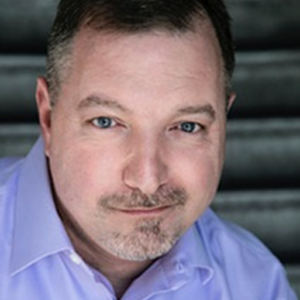 John started down the road of anime in 1997, when he landed his first role in Golden Boy from ADV Films. Since then, John has gone on to voice hundreds shows and characters with Sentai Films, Funimation, ADV Films, Switchblade Films, Okratron 5000, Gearbox, Seraphim Digital and Illumitoons just to name a few. John's wife once quipped that there are certain actors who might be the "Brad Pitts" of anime but John is the "Kevin Bacon" of anime.
Being more of the character actor type has given John the freedom to voice bazillions of characters such as Undertaker in Black Butler, Salvador in Borderlands II (VG), Gendo in Evangelion, Sgt. Hauser in Halo (VG), Lord Death in Soul Eater, Hoenheim in Fullmetal Alchemist, Sir Crocodile in One Piece, Dodoria in DBZ Kai, Kogoro in Sgt. Frog, Huang in Darker than Black, Hades in Fairy Tale, Zachary in Attack on Titan, Aramaki in Ghost in the Shell, and Jinnouchi in Summer Wars, as well as roles in the live action films 2009 Lost Memories, Conduct Zero, Yesterday, Jungle Juice, and the Gamera trilogy. Most recently you can catch John in the broadcast series of GANGSTA as Chad, and Akame Ga Kill as Bols as seen on Toonami.
John voiced his favorite role (Kumatetsu, The Beast) in Funimation's theatrical release of Mamoru Hosoda's film, The Boy and the Beast.
In 2004, John jumped to the other side of the "mic" to direct. Some of the shows he has recently directed include Ushio and Tora, Squid Girl, Flip Flappers, and Yona Yona Penguin. John loves working in the world of anime as a director and voice actor!
Currently John is working with pals Kyle Jones and Jay Hickman on an original animation full length movie called The Perfect Khan. In addition to anime, John has acted in radio and tv commercials and films.
---
SungWon Cho (ProZD)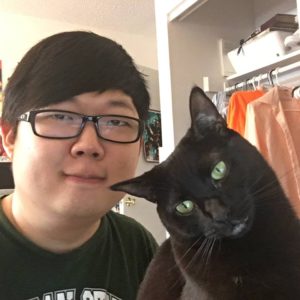 SungWon Cho is a voice actor. You also may know him as ProZD online where he makes videos on YouTube/Twitter/Tumblr/all the social medias.
He loves his cats Effie and Sophie very much.
https://www.youtube.com/user/ProZD
https://twitter.com/prozdkp
https://www.instagram.com/prozd/
http://prozdvoices.tumblr.com/
http://www.patreon.com/prozd
---
Kaye Cosplay (Sammi Nystrom)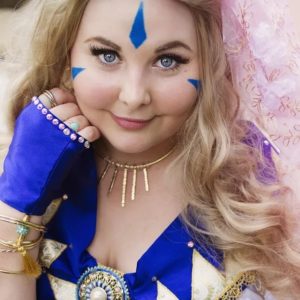 Sammi Kaye Nystrom, known by her online alias "Kaye Cosplay", is an award-winning cosplayer and professional costumer for the Walt Disney Company. Since 2005, she has won over fifteen cosplay awards, most recently representing the United States for the International Cosplay League competition that was held in Madrid, Spain, where she was awarded 2nd place Solo Craftsmanship.
Many who follow her work have come to know Sammi for her craftsmanship, technicality, and cleanliness in sewing. An early fanatic of anime, comics, video games, and anything "nerdy", Sammi quickly became immersed in the convention and cosplay world, making her first cosplay at the age of 12. A master at designing cosplays to suit real people, she has created a body of work showcasing that anybody can cosplay the characters they love.

---
Kid Yuki and the Otakus
(Saturday Only)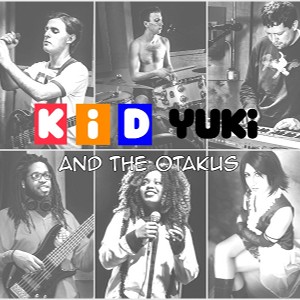 Kid Yuki and The Otakus is a rock band united under one mission: to bring your favorite anime and video game music to life.
Their acoustic show features a list of over 100 songs for you to choose from – songs from anime like One Piece, Attack on Titan, and My Hero Academia; games like Kingdom Hearts, NieR: Automata, and Fire Emblem; and other nerdy series like RWBY, Steven Universe, and Scott Pilgrim. Come hang out, sing along, and have a good time!
Check out www.youtube.com/c/kidyuki1 for a taste of what's in store.

---
Samurai Dan & Jillian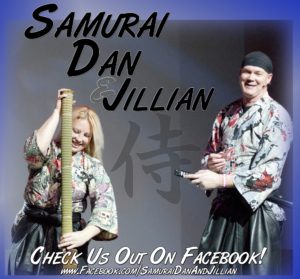 Dan Coglan, a.k.a. "Samurai Dan" and his wife, Jillian are the acknowledged masters of marital… er, martial mayhem. This dynamic duo travels the civilized portions of the US, bringing their unique show to curious and horrified audiences alike.
In addition to their high-energy, mostly safe stage shows (where razor sharp blades and barbs fly) the couple teaches historical and hysterical panels on the way of the warrior. Offering a wide range of lectures and interactive workshops, Dan and his lethal love Jillian are guaranteed to provide con attendees fun and fulfillment.
Due to a supreme lack of filter, Dan also performs standup comedy, and lives to embarrass his wife onstage, in censored and uncensored settings.
A storyteller at heart, Dan is finishing his third horror novel, and offers insights into the creative process with panels for the aspiring writer as well.
Check them out at http://www.facebook.com/SamuraiDanAndJillian
---