The lineup listed here are who we initially had slated for our 2020 dates. Due to changes in our date, we are still reconfirming our guest list.
Leah Clark
Leah Clark is an American voice actor and Funimation Staff Script writer.
Recently she can be heard in My Hero Academia (Himiko Toga); Fairy Tail/Fairy Tail Zero (Mavis); How Heavy Are the Dumbbells You Lift (Tachibana, and script writer); Nichijou-My Ordinary Life (Mio); Dragon Ball Z/Super (Launch, Maron, Ogma); Fairy Tail (Mavis); Miss Kobayashi's Dragon Maid (Kobayashi); HighSchool DXD Hero (Asia); Darling in the Franxx (Ikuno), New Game (Yun); KanColle (Yuudachi), Sakura Quest (Maki); Aria the Scarlet Ammo AA (Aria), and Yuri On Ice (Mari).
Memorable titles and roles include Soul Eater (Blair); How NOT to Summon a Demon Lord (Sylvie); Negima (Nodoka); One Piece (Coby/Miss Doublefinger); Eden Of This East (Saki); Baka and Test (Minami); Deadman Wonderland (Minatsuki/Hummingbird); Dragonball GT (Maron); Assassination Classroom (Kanzaki); Suzuka (Suzuka); Rosario + Vampire (Ruby); Murmur (Future Diary); Fullmetal Alchemist: The Movie – Conqueror of Shamballa (Noah); Pokémon the Movie: Black – Victini and Reshiram (Carlita) and Pokémon the Movie: White – Victini and Zekrom (Carlita).
Along with regular voice work at Funimation, her voice can also be heard on industrial commercials and video games such as Smite and Borderlands II.
As a staff ADR script writer at FUNimation; Her most recent projects include Toilet Bound Hanako; Plunderer; How Heavy Are the Dumbbells You Lift; Ensemble Stars; RobiHatchi; How NOT to Summon a Demon Lord; Space Battleship Tiramisu; Chio's School Road; A Certain Magical Index III, and Magical Girl Spec-Ops Asuka. Other favorite scripts are Panty and Stocking, Suzuka, Peach Girl, Baka and Test, Sasami: Magical Girl Club, B Gata H Kei – Yamada's First Time; and Strike Witches.
Leah is the co-creator of a YouTube channel called Laure & Clark Explore with Morgan Laure Garrett showcasing experiences at conventions/travel and anime subculture.
Leah studied music theatre at Circle in the Square in New York. She performs and directs regularly for stage productions in the Dallas-FortWorth Area.
Follow Leah on Twitter and Instagram @leahclarkVA

---
Chris Hackney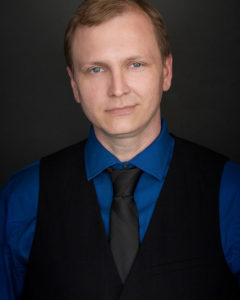 Chris Hackney is an American voice actor currently residing in Los Angeles, CA.
Originally from Florida, Chris found his way to acting when in college for music. While looking for more outlets for artistic expression, he discovered an entire new world of creativity in acting. Several years of training and a cross-country move later, Chris has found his life and passion in voiceover.
Chris can be heard in various forms including commercials, video games, anime, and animation. Currently, he's most known for titles such as Fire Emblem: Three Houses (Dimitri), Fire Emblem Echoes: Shadows of Valentia (Boey), Hunter x Hunter, Mega Man 11, K Project, Valkyria Chronicles 4, and Gundam SEED. Chris is always looking forward to the next exciting opportunity he can lend his passion to.

---
Marissa Lenti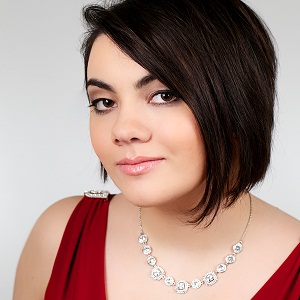 Marissa Lenti, best known as the voice of Moze (Borderlands 3), is a voice actress who you can also hear in anime roles like Cocotte (Dragon Ball Super), Libra (Fairy Tail), Gray Wolf (Kemono Friends), Momoko Hyakushiki & Kuu (NANBAKA), Chiaki Hoshinomori (Gamers!), Mikado Ryoko & Marron (To Love Ru), Mistress Sadie (One Piece), Ilse Langnar (Attack on Titan: Junior High), and Atago & Z1 (Azur Lane), among others! She's also appeared in many other video games, like Brawl Stars, SMITE, Yandere Simulator, Huniepop 2, Freedom Planet 2, A Hat In Time, MechWarrior 5, My Tamagotchi Forever, and more.
When she's not acting, she's casting & directing for Sound Cadence Studios, with some of her recent projects being directing the English dubs of the anime Kemono Friends, B't X, This Boy Is A Professional Wizard, and This Boy Suffers From Crystallization, as well as casting for Rooster Teeth's RWBY, gen:LOCK, Red vs Blue, Nomad of Nowhere, and Camp Camp. She's also an ADR Writer, providing the scripts for anime like Bloom Into You, Tada Never Falls In Love, City Hunter: Shinjuku Private Eyes, Actors: Songs Connection, and Love Stage!!! to name a few.
To learn more about Marissa, check out her website at www.MarissaLenti.com or follow her on Twitter or Instagram (@MarissaLenti)!

---
Eric Wile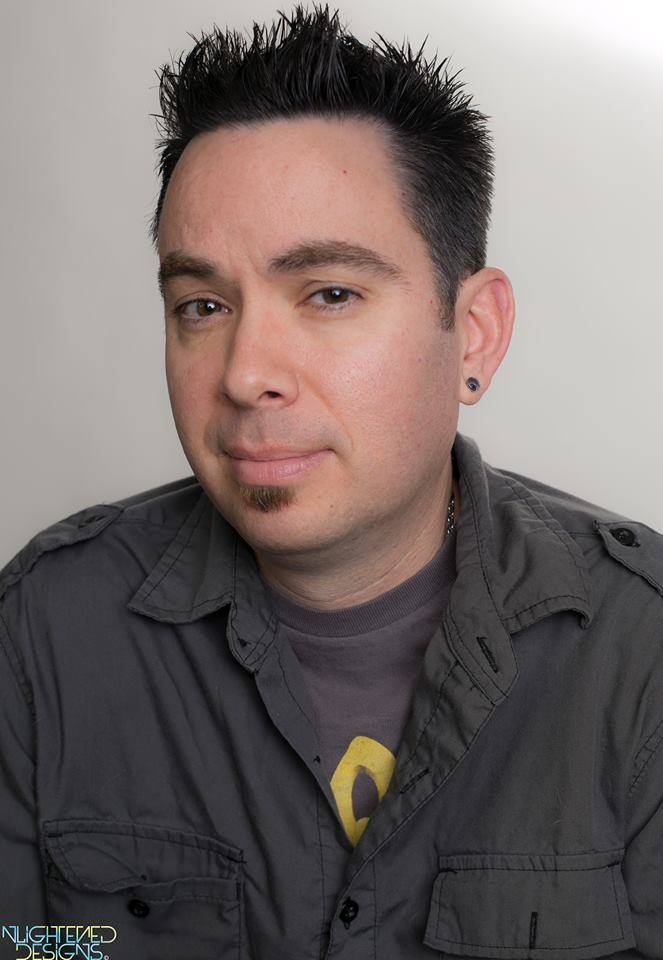 Eric Wile is an accredited video game designer.
He has been vital in the process of producing many video games created by Sony Online. His most notable talents are level creation, design, character builds, game mechanics, storyboarding and much more.
Find more information on Eric:
https://www.facebook.com/EricCWile
https://www.linkedin.com/in/eric-wile-72484824/
https://www.instagram.com/wileeric/





---
Wig Wig Cosplay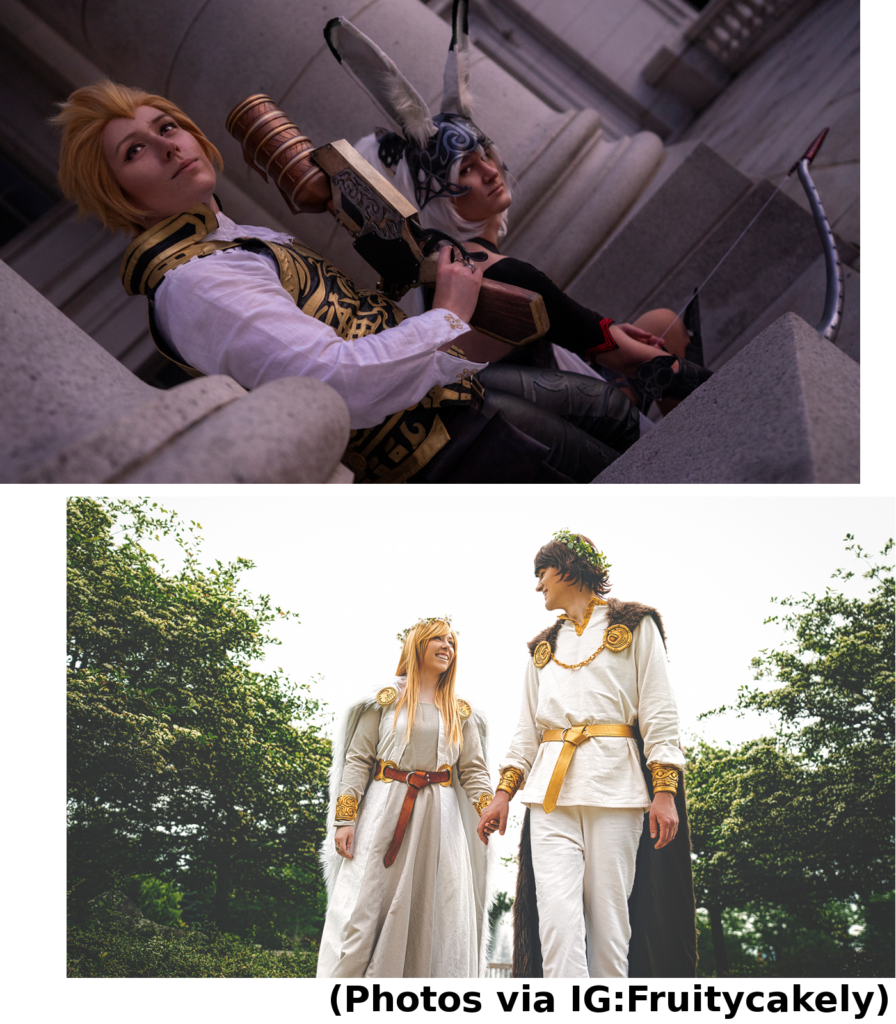 Traveling from neighboring Minnesota for their first ever No Brand Con are guests Wig-Wig Cosplay. This dynamic duo is an award-winning competitive cosplay pair who have been crafting together since 2013. Paragon and SkyPirate are best known for their combination of technical sewing and fabrication skills alongside entertaining performances. In 2019, they represented the USA in Madrid, Spain at the International Cosplay League and won first place in the duo category – and the first duo gold internationally won for the USA! Their list of self-taught specialties includes sewing, leatherwork, foamwork, wig-styling, propwork, silk painting, and many more. Alongside competition, they have been judging craftsmanship and performance as well as working to promote and assist cosplay departments and competitions around the country. When not in the greenroom, Wig-Wig Cosplay has a passion for learning new techniques and skills, and they love sharing their knowledge and experience with the community. Check out their panels and be sure to come say hello!
---