One of the more recent recruits to join the illustrious No Brand Heroes is none other than Magical Girl Girl. Magical Girl Girl is… a magical girl? I mean, it's kind of right there in the name. We're not exactly making this hard.
With the Gardening Ninja absent, and the current Greenboy out on assignment more often than not, she's become Duct Tape Boy's frequent companion since showing up. So let's talk about how she joined the team, and what exactly her role is.
Because, y'know, that's the whole theme of this series of posts.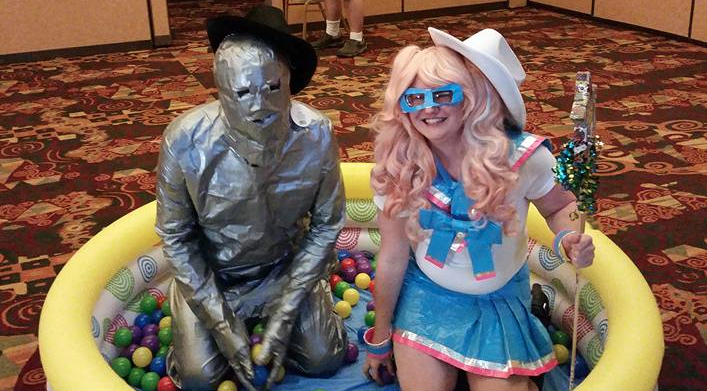 In the spring of 2015, Duct Tape Boy was rummaging around the storage area he currently keeps his cardboard box in, and discovered a magical wand. No one knows who put it there or where it came from, but after he waved it around for a few minutes, Magical Girl Girl appeared.
So… she was just sort of there from that point on? I mean, it seems like people just sort of accepted it. I mean, frankly "Just go with it" has always kind of been the motto of the No Brand Heroes when nothing makes any sense.
And things don't make sense a lot of the time.
In 2016, when the convention moved to the Wisconsin Dells, Magical Girl Girl asked Duct Tape Boy be her navigator when the two drove to the con. Because Duct Tape Boy was navigating though, they got lost on the way and ended up in the desert. How that works I'm not exactly sure, but they eventually found their way and got to the con.
Which is, y'know, a good thing.
I'm honestly not sure what Magical Girl Girl's role on the team is. Since she's shown up no supervillain has actually attacked our heroes, so Magical Girl Girl's mettle has yet to be tested. One day it will be, but until then we know she's at least willing to show up!
That's more than you can say about a lot of people.